CASE STUDY
小規模旅館「割烹旅館ゆめさき」のサステナブルな宿泊施設へのリモデル化
Remodeling of Small-scale Ryokan into a Sustainable Accommodation Facility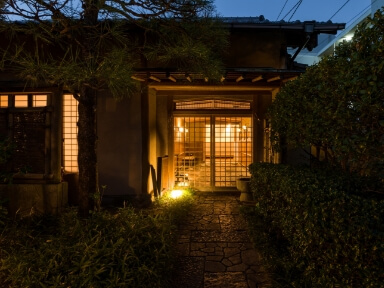 物件概要
用途

旅館
所在地

大分県別府市大字南立石2145番地の112
構造

木造瓦葺 2階建
敷地面積

870㎡
延床面積

470㎡
Property Description
Usage

Ryokan
Location

Beppu City, Oita
Structure

Wooden structure with tiled roof. 2 stories high.
Site area

870㎡
Total floor area

470㎡
OUTLINE
プロジェクト概要
日本全体の旅行消費額は年々増加している一方で多くの旅館は、施設・設備の老朽化、従業員の確保・育成の難しさ、外部環境への対応力不足といった課題を抱えており、結果として事業承継ができずに休業や倒産が多発しています。そこで当社では、伝統的な旅館をサステナブルな宿泊施設へとリモデルし、そのノウハウを蓄積・昇華させることで、類似案件への展開を目指しています。
Project Background
While the amount of travel consumption in Japan as a whole is increasing year by year, many Ryokans are facing issues such as aging of facilities and equipment, difficulty in securing and training employees, and their inability to cope with the changing environment, resulting in many closures and bankruptcies. We are going to remodel ryokans into sustainable lodging facilities, and by accumulating and applying these methods and knowledge, we aim to expand our efforts to similar projects.
GCMの役割
当案件は、地方再生に悩む別府の地方銀行からの紹介で、老朽化している市内の料亭旅館のユーニークなポジショニングを、これからの世代のニーズにマッチするような商品へと再生させるプロジェクトです。当社自らがそのオペレーションに関わり、下記項目を実行中です。

・旧来型運営体制のアップデート(IT化、キャッシュレス等)
・長期的な営業ヴィジョンの策定(OTA管理、プラン企画、販促)
・時代のライフスタイルやマーケットへの変化対応(Wi-Fi完備、プライシング、多言語対応)
Our Role
This project was introduced to us by a local bank in Beppu, struggling to revitalize the local area. It involves revitalizing the unique positioning of a deteriorating ryokan into a facility and product that matches the needs of the generation to come. We are involved in this operation and are implementing the following changes:

- updating the old management system (implementing IT technologies, cashless, etc.)
- flong-term sales vision (OTA management, creating plans, sales promotion)
- Adapting to new lifestyles and markets changes (Wi-Fi, pricing, multi-language support)