CASE STUDY
日帰り温泉施設の地域観光拠点としての再生
Revitalization of Day Spa Facility as a Regional Tourism Hub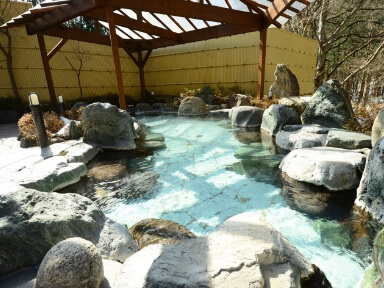 物件概要
用途

日帰り温泉施設(レストラン併設)
所在地

長野県茅野市北山2977-1
構造

鉄骨・鉄筋コンクリート造 スレート葺 地上3階建
敷地面積

6,800㎡
延床面積

1,200㎡
Property Description
Usage

Day Spa Facility (Restaurant attached)
Location

2978-1 Kitayama, Chino City, Nagano
Structure

Steel/reinforced concrete structure with slate roofing. 3 stories high.
Site area

6,800㎡
Total floor area

1,200㎡
OUTLINE
プロジェクト概要
当案件は、白樺湖、車山高原、霧ヶ峰といった蓼科地域の著名観光地へのアクセスのよい幹線道路沿いに位置している日帰り温泉施設です。敷地内から湧出する泉質の良い源泉かけ流しの温泉と、白樺湖から流れ出す音無川の渓流を望む露天風呂が温泉ファンにも人気があります。しかし、施設の老朽化と顧客ターゲットを絞り切れない運営が続いた結果、観光施設としての魅力が薄れ、売上が低迷してしまいました。
当社では、前所有者から当施設の地域観光拠点としての再生の想いを引き継ぎ、2019年秋から運営を開始しました。
Project Background
This project was about a day use onsen (hot spring) located along the main road with easy access to famous sightseeing spots in the Tateshina area, such as Lake Shirakaba, Kurumayama Highland, and Kirigamine. The hot spring gushing out and the open-air onsen overlooking the Otonashi River mountain stream flowing out of Lake Shirakaba are popular among the onsen fans. However, as a result of facility aging and failing to target the right customers, it lost its appeal as a tourist attraction and the sales went down. We took over this project to revitalize the facility as a regional tourism hub from the previous owner, and began operating from fall of 2019.
GCMの役割
まずは、老朽化した設備の改修や更新を随時進め、顧客満足度を向上させるための財務や財政支援に着手しました。当社が出資した農業法人「信州農家」とのコラボを含む、地元の高品質農作物をフィーチャーしたレストランへの再生に向けたメニュー開発とフロア改修の企画など、地域を訪れる観光客や地域の別荘利用者をメインターゲットとした施設づくりと効果的なマーケティング戦略を立案し、実施しました。
また、観光拠点としての再生に熱意を持って取り組む現場オペレーションチームづくりの支援も積極的に行い、ユニークかつ収益性の高い観光施設への再生と地域経済への貢献に取り組んでいます。
Our Role
We first began by providing financial and fiscal support to improve customer satisfaction by renovating the facility as needed. We developed and implemented effective marketing strategies for the facility, including menu development and renovation planning of the restaurant in collaboration with Shinshu Nouka, an agricultural corporation we have invested in, and their local high-quality agricultural products, mainly targeting the tourists visiting the area and users of local villas. We also actively supported the formation of the operation team, revitalizing the local area as a tourist hub, and continue our work in turning it into a unique and profitable tourist facility, contributing to the local economy.