CASE STUDY
熊本市中心市街地における大型共同建替え事業
Large-scale Joint Reconstruction in Central Kumamoto City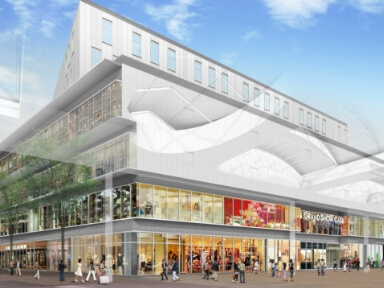 物件概要
用途

商業・事務所等
所在地

熊本県熊本市中央区
構造

鉄骨造(地上8階、地下1階)
敷地面積

3,100㎡
延床面積

19,000㎡
Property Description
Usage

Retail, Office, etc.
Location

Chuo-ku, Kumamoto
Structure

Steel framed structure (8 stories high, 1 story underground)
Site area

3,100㎡
Total floor area

19,000㎡
OUTLINE
プロジェクト概要
熊本市中心地の下通アーケードにある老朽化した「ダイエー熊本店」建て替えプロジェクトアドバイザリー案件。物件を買収した地元デベロッパーは、同じく建物老朽化の課題を抱えていた隣接ビルオーナーと共同で再開発することを企画しました。地方商業中心地の老朽化建て替え案件を隣地地主を巻き込んでより大型で魅力ある施設として再生するプロジェクトのアドバイザリーを受託しました。
Project Background
This is a project we served as an advisory for the reconstruction of the aging Daiei Kumamoto Store located in the Shimodori Arcade in the center of Kumamoto City. The local developer who acquired the property, planned to redevelop it jointly with the owner of an adjacent building, also facing the issue of aging of their building. We were commissioned to advise on a project to revitalize an aging regional commercial center into a larger and more attractive facility by involving the landowner of the adjacent land.
GCMの役割
弊社は、共同開発・共同運営のスキームを策定し、事業化を監修するとともに両社の資金調達アレンジ、一部のリーシングを担当しました。開発は優良建築物等建替え事業として行政の補助も受けました。建築中の2016年4月には、熊本地震に見舞われたものの、計画通り翌2017年4月に大型商業施設兼オフィスビルとして竣工することができました。収益性はもちろんのこと、最新の建築技術を採用した優良なアセットが熊本に誕生するとともに、複数の地主をまとめて権利を調整したCREの応用版として不動産投資アドバイスの地域貢献メニューとして新たなページを開いた案件となりました。
Our Role
We formulated a scheme for joint development and operation, supervised commercialization, arranged financing for both companies, and handled some of the leasing. The development was also subsidized by the government as an excellent building reconstruction project. Although the Kumamoto earthquake struck in April 2016 during construction, the building was completed as a large-scale commercial facility and office building in April 2017, as planned. In addition to being profitable, the project created an excellent asset in Kumamoto that employs the latest construction technology, and opened a new page in the menu of regional contributions to real estate investment advice, as an applied version of CRE that brings together multiple landowners and adjusts their rights.