CASE STUDY
開発型SPCを活用した大規模オフィスビル開発
Large-scale Office Building Development by Utilizing Development-type SPC
Real Estate Value Enhancement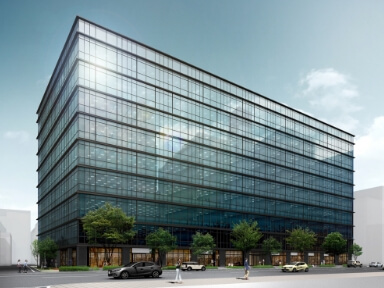 物件概要
用途

オフィス・店舗
所在地

福岡市中央区
構造

オフィス棟 鉄骨造 地上9階/ 駐車場棟 鉄骨造 地上4階
敷地面積

4,300㎡
延床面積

約24,000㎡
Property Description
Usage

Office, Retail
Location

Chuo ~ku, Fukuoka City
Structure

Office Building: Steel framed structure. 9 stories high. Parking Building: Steel framed structure. 4 stories high.
Site area

4,300㎡
Total floor area

Approx. 24,000㎡
OUTLINE
プロジェクト概要
福岡市舞鶴地区にある旧黒田藩別邸跡地の有効活用について、不動産事業の検討機会を得た九州電力グループがGCMとの共同検討を経てプロジェクトファイナンス手法により開発型SPCを活用した大規模オフィス開発事業です。
Project Background
The Kyushu Electric Power Group, which had an opportunity to consider a real estate business for the effective use of the former Kuroda Clan villa site in the Maizuru district of Fukuoka City, launched a large-scale office development project using a development-type SPC based on a project finance method after a joint study with our company.
GCMの役割
SPCの立ち上げにおいて事業の信用性・蓋然性を高める為に、国交省大臣認定を要件とするMINTO機構のまち再生出資制度を活用し、認定取得に向けて関係各所との調整役を担いました。共同で検討を重ねた九州電力(グループ企業含む)以外にも、地場大手の九州リースサービスからの出資や地元金融機関からの融資による資金調達を円滑に進め、地域に根差した企業からの資金調達を元手に地域貢献が可能なオフィスビルを開発するというストーリー性あるプロジェクトを実現することができました。
Our Role
In order to increase the credibility of the project, we utilized a revitalization investment system operated by MINTO (an organization for promoting urban development), which requires certification by the Minister of Land, Infrastructure, Transport and Tourism, and took on the role of coordinating with all related parties in order to obtain the certification. In addition to Kyushu Electric Power (including its group companies), with which we had a series of joint discussions, we were able to raise funds smoothly through investments from Kyushu Lease Service, a major local company, and loans from local financial institutions, and successfully launched a project developing an office building that can contribute to the community with funds raised from companies deeply rooted in the community.