CASE STUDY
大型商業施設「ガーデンズ千早」の開発
Commercial Facility Development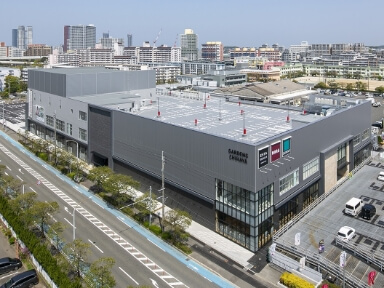 物件概要
用途

商業施設
所在地

福岡県福岡市東区千早3丁目6-37
構造

鉄骨造
敷地面積

13,900㎡
延床面積

15,300㎡
Property Description
Usage

Commercial Facility
Location

3-6-37 Chihaya, Higashi-ku, Fukuoka City, Fukuoka
Structure

Steel framed structure
Site area

13,900㎡
Total floor area

15,300㎡
OUTLINE
プロジェクト概要
地元の大手の不動産所有会社高橋株式会社の都市型スポーツ施設の建替えを含めた不動産の有効活用に関する相談を受けたところよりプロジェクトがスタートしました。当時のフィットネス・インドアテニス・ボウリング場など利用状況を考慮し、敷地の半分を先行開発し、継続予定の事業に関しては敷地内移転を実行することに。同時に既存事業とのシナジーや不動産の有効活用の視点から、食品スーパーやデイリー性の高い業種テナントやクリニックを誘致する新規開発事業の企画及びファイナンスのアドバイザリーのお手伝いをしました。
Project Background
The project started when we were consulted by Takahashi Corporation, a major local real estate owner, about the effective use of their real estate, including the reconstruction of their urban sports facility. Considering the usage of the existing fitness center, indoor tennis court, bowling alley, etc. at that time, we decided to develop half of the site in advance, and relocate the ongoing business within the site. At the same time, we decided to attract grocery stores and other industries with high daily needs as well as clinics, to create synergy with existing tenants, and supported planning and financial advisory for this new development project.
GCMの役割
弊社は、高橋社全体の不動産・財務戦略の立案と当該ガーデンズ千早開発プロジェクト事業収支を立て、同社におけるプロジェクト推進の土台を構築しました。また、高橋社内にプロジェクトチームを組成し、関係プレイヤー(設計・建設・デザイン・リーシングサポート会社)の選定も行いました。さらにクライアントの既存融資行と事前に入念にコミュニケーションを取り、プロジェクトの蓋然性や予定返済計画、テナントの誘致状況を説明しながら資金調達支援サポートを行い地域金融機関3行からの協調融資をアレンジ
プロジェクト進行時においては、工事進捗や許認可スケジュール、テナント誘致状況、工事予算の進捗などを月次でレンダーにレポートし、開発全体のプロジェクトマネジメントも実施。モール竣工後も商業施設運営の立ち上げ体制立案や月次レポートフォーマットの作成など、初の大型商業施設運営となる高橋社の事業サポートを継続して行なっています。
Our Role
We built the real estate and financial strategies for the entire Takahashi Corporation and established the business balance for this development project. We also formed a project team within the client's company, to select the relevant players (design, construction, design, and leasing support companies). In addition, we carefully communicated with the client's existing lending banks in advance to explain the probability of the project, the planned repayment plan, and the status of tenant attraction, and provided support for fund procurement and arranged syndicated loans from three regional financial institutions.
We provided monthly reports to lenders on construction progress, as well as permit schedules, tenant attraction status, construction budget progress, etc., and also conducted project management for the entire development. Even after the project completion, we continued to provide business support to Takahashi, which was operating its first large-scale commercial facility, including planning the start-up system for commercial facility operations and creating monthly report formats.